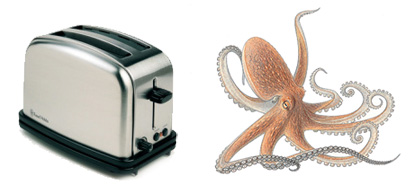 Today I posted a reply to a mailing list which has been discussing OOO off and on. One complaint registered was that OOO is not "fuzzy" enough, and fuzzy or "soft" things are more desirable.
It may not seem a very substantive comment, but I think it hits on what's really going on with many rejections of OOO on purportedly political grounds. OOO is threatening to many popular theories of art, culture, identity, politics, and so forth because it holds that a toaster is not an octopus. So much of poststructuralism deals with blending and bleeding borders. There is much to praise about such attitudes, which dampen our certainty about various kinds of borders and delineations. But somehow, we got so turned around in the last half-century, we took this idea so far toward its logical conclusion, that we decided that a toaster not being an octopus is oppressive and dangerous.
This is a fascinating lesson, one I will have to consider further.