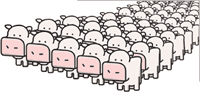 Last year, the social gaming phenomenon Cow Clicker captured the world's imoogination, offering players the opportunity to click on a cow every six hours—or even more often. Since July 2010, more than 50,000 people have clicked over 50 breeds of cows over 5 million times, engorging their accownts with over 5 million mooney, Cow Clicker's in-game currency.
Cow Clicker distilled social games to their essence, offering players incentive to instrumentalize their friendships, obsess over arbitrary timed events, buy their way out of challenge and effort, and incrementally blight their offline lives through worry and dread.
Though its player community constitutes a true cowtown, a question still lows low from the pasture: does life still thrive on this digital cowpat, or is it but a one-trick calf?
Here at the Cow Clicker ranch, we've learned an important lesson about cow clicking: people don't just want one chance to click a cow every six hours. They want as many opportunities as possible to click a cow every six hours.
So today, I'm thrilled to announce the launch of the Cow Clicker Platform: the web-widget Cow Clicker Connect, the programmable Cow Clicker API, and three new official Cow Clicker products that implement them, the Facebook game Cow Clicker Blitz, the iPhone app Cow Clicker Moobile, and the Moogle search engine.
Cowclickification is the Future of Branding
No longer shall the bovine secrets of cow clicking be locked away behind the electrified fences of our acreage. Now you can leverage the intrinsic incentives of cow clicking to improve user experience and retention in your business. Anything you can click you can cow click!
It's called cowclickification—the application of cow clicking mechanics to non-cow clicking applications. Now everyone can graze on the sweet grasses and step in the pungent pies of Cow Clicker's pasture. Businesses can employ new cow clicking mechanics such as clicking a cow to distract customers from the vapid pointlessness of their products and services.
Players can earn one click every six hours at every cowclickified website or app they use. Thanks to the intrinsic pleasure and ferocious competition inherent to cow clicking, they'll want to click everywhere they can as often as possible. When you cowclickify, you give your audience good reason to use your otherwise mediocre website, app, or service.
Moove over gamification, it's time for gamoofication. The Cow Clicker platform is here to turn your marketing and branding initiatives into a thunderous stampede of clicks!
Cow Clicker Connect
Cow Clicker Connect offers an easy way to cowclickify your website. When your users click on a cow on your website, they'll also earn a click in Cow Clicker! Think about it: would you rather order a pizza, submit a comment, or rate an escort service by clicking a boring button… or by clicking your cow? That's what we thought.
Cow Clicker API
The Cow Clicker API allows developers to build their own cow clicker apps atop the Cow Clicker platform. If your mobile app, web application, or software product demands seamless bovine integration, the Cow Clicker API is for you. In addition to allowing you to provide custom clicking integration, the API also makes it easy to integrate the cows themselves into your app.
Blitz, Mooble, Moogle, and More
Back at the farmhouse, we've been churning our own milk to provide buttery examples of cowclickification in action. Not only do these specimens show taurine engineers and entrepreneurs alike the udderly enormous potential of cowclickification, but also they provide exciting new experiences for clickers writ large.
Cow Clicker Blitz is a fast-paced cow clicking game in which players click cows, not gems. Clickers can submit a high score (and earn a click) by clicking their cow every six hours.
Cow Clicker Moobile is an iPhone app (coming soon to the Apple App Store) that lets clickers click their cows on the moove. Never miss an opportunity to click again—plus, post moobile clicks to your Facebook wall and earn mooney when your friends click your clicks.
And Moogle, the cowclickified search engine, offers a simple example of Cow Clicker Connect in action. Search the web by clicking on your cow. It was created in less than half an hour with Cow Clicker Connect. Anything clickable on your website or blog is an opportunity for cowclickification!
The Stockyard
Once you've created your cowclickified application, we know what you're going to ask next: how can I moonetize it? As usual, Cow Clicker's got you covered. The Stockyard is the Cow Clicker app store, where developers and businesses can publish their cowclickified applications, and where eager cow clickers can find new opportunities to click. Soon we'll have our rubber aprons donned and our industrial hoses primed, so reserve your pen in the Stockyard now.
We can't wait to see the methane you expel! Before you know it, spuming mad cow clickers will overwhelm your otherwise useless and regrettable site or service. Remember: anything you can click you can cow click!