This piece from 2011 has received a lot of attention, although it was originally just a short position statement delivered at a conference. In early 2015, a much longer, more densely argued version was published as "Why Gamification is Bullshit" in
The Gameful World
In his short treatise On Bullshit, the moral philosopher Harry Frankfurt gives us a useful theory of bullshit. We normally think of bullshit as a synonym—albeit a somewhat vulgar one—for lies or deceit. But Frankfurt argues that bullshit has nothing to do with truth.
Rather, bullshit is used to conceal, to impress or to coerce. Unlike liars, bullshitters have no use for the truth. All that matters to them is hiding their ignorance or bringing about their own benefit.
Gamification is bullshit.
I'm not being flip or glib or provocative. I'm speaking philosophically.
More specifically, gamification is marketing bullshit, invented by consultants as a means to capture the wild, coveted beast that is videogames and to domesticate it for use in the grey, hopeless wasteland of big business, where bullshit already reigns anyway.
Bullshitters are many things, but they are not stupid. The rhetorical power of the word "gamification" is enormous, and it does precisely what the bullshitters want: it takes games—a mysterious, magical, powerful medium that has captured the attention of millions of people—and it makes them accessible in the context of contemporary business.
Gamification is reassuring. It gives Vice Presidents and Brand Managers comfort: they're doing everything right, and they can do even better by adding "a games strategy" to their existing products, slathering on "gaminess" like aioli on ciabatta at the consultant's indulgent sales lunch.
Gamification is easy. It offers simple, repeatable approaches in which benefit, honor, and aesthetics are less important than facility. For the consultants and the startups, that means selling the same bullshit in book, workshop, platform, or API form over and over again, at limited incremental cost. It ticks a box. Social media strategy? Check. Games strategy? Check.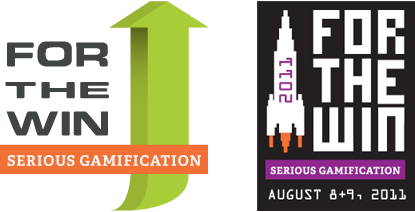 The title of this symposium shorthands these points for me: the slogan "For the Win," accompanied by a turgid budgetary arrow and a tumescent rocket, suggesting the inevitable priapism this powerful pill will bring about—a Viagra for engagement dysfunction, engorgement guaranteed for up to one fiscal quarter.
This rhetorical power derives from the "-ification" rather than from the "game". -ification involves simple, repeatable, proven techniques or devices: you can purify, beautify, falsify, terrify, and so forth. -ification is always easy and repeatable, and it's usually bullshit. Just add points.
Game developers and players have critiqued gamification on the grounds that it gets games wrong, mistaking incidental properties like points and levels for primary features like interactions with behavioral complexity. That may be true, but truth doesn't matter for bullshitters. Indeed, the very point of gamification is to make the sale as easy as possible.
I've suggested the term "exploitationware" as a more accurate name for gamification's true purpose, for those of us still interested in truth. Exploitationware captures gamifiers' real intentions: a grifter's game, pursued to capitalize on a cultural moment, through services about which they have questionable expertise, to bring about results meant to last only long enough to pad their bank accounts before the next bullshit trend comes along.
I am not naive and I am not a fool. I realize that gamification is the easy answer for deploying a perversion of games as a mod marketing miracle. I realize that using games earnestly would mean changing the very operation of most businesses. For those whose goal is to clock out at 5pm having matched the strategy and performance of your competitors, I understand that mediocrity's lips are seductive because they are willing. For the rest, those of you who would consider that games can offer something different and greater than an affirmation of existing corporate practices, the business world has another name for you: they call you "leaders."
(Also available in <a href="http://www.brainstorm9.com.br/opiniao/gamification-e-bullshit/">Portuguese</a>, <a href="http://bun045.wordpress.com/2011/08/14/byi/">Japanese</a>, and reprinted at <a href="http://www.theatlantic.com/technology/archive/2011/08/gamification-is-bullshit/243338/"><i>The Atlantic</i></a> and <a href="http://kotaku.com/5829210/">Kotaku</a>)