On her blog, my Georgia Tech colleague Amy Bruckman writes about her dissatisfaction with this year's Olympics. While she loved the games as a kid, Bruckman wonders if her new feelings of disappointment arise from watching them as an educator rather than as a little girl: "I look at young people and want to see positive outcomes for all our kids. And I wonder why in the world we need a social system that creates so many losers." Echoing some common concerns, Amy laments that many kids take sport "beyond healthy exercise to an obsession that dominates their childhoods," and that sport represents another example of how our "formal education system unfortunately also creates winners and losers." Citing an example from this year's Olympics, Bruckman reflects on watching Jordyn Wieber cry on international television when she failed to qualify for the women's gymnastics all-around competition. "Why am I watching this?" Amy wonders, before reaching a summary conclusion that pits competitive sport against collaborative enculturation: "Why aren't more of our pastimes collaborative?"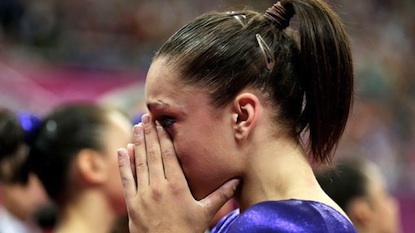 Amy's comments remind me of other recent grievances about competitive games and sports in the game research and development community. For example, David Kanaga recently wrote against didacticism in games and in favor of exploration and playfulness. Competition, argues Kanaga, destroys the play impulse by "impos[ing] a value system on our experience," one "pre-determined by the game's design." Likewise, Doug Wilson has argued, following German play advocate Henning Eichberg, that players play best, that games are most beautiful when players are allowed to make of them what they wish. Instead of achievements, argues Wilson, games can embrace "unachievements," borrowing from folk games (particularly in the Nordic tradition) and playground games where each participant's achievements are given equal consideration. Don't tell me what a game should be, what it means to be good at it, what it means to master it—such is the kind of argument Kanaga and Wilson and others advance.
While Amy Bruckman doesn't mention these examples specifically, she does observe that our cultural rituals both reflect and construct who we are. There's no denying it. But I wonder why so many believe that competition represents a kind of ritual we don't want to have. Bruckman does a good job dressing up her criticisms of competition and her support of collaboration in social access and mobility, and she's got a point. But when she asks, "Could school sports be more collaborative, where everyone is working together to meet a shared goal?" I wonder if she has any idea what goes into football or soccer or even team gymnastics, for that matter. Sure, yes, team sports are not communities and they are not nation-states. But they are not prisons either, and I'm rather tired of hearing that there's something so desperately wrong with pushing one's body and mind to the very limits of human potential.
Take Jordyn Wieber as an example. She's seventeen years old, and has been impelling herself forward in the insanely high-pressure international gymnastics scene knowing that she'd be washed up before twenty. Women gymnasts typically get one shot at the Olympics, and even then only if the timing works out. Not only that, but she'd been reared as both a gymnast and a young woman in America, where mediocrity and equity rule, rather than, say, behind the Iron Curtain in the 1970s or in China today. You better believe she was disappointed, and the government wasn't even going to ship her family off to a gulag.
But were we really watching just Wieber's disappointment, like some sort of awkward schadenfruede, like it was an uncomfortably scripted scene from Glee or Big Brother? Not really. Because despite the enormity of the disappointment and its associated embarrassment, she recovered quickly, congratulated her teammates, and moved on. Sure, she'd won the team gold, but this was the individual all-around, this was her life up until this point. I dare anyone to react better in a situation fractionally as charged and high-profile. Wieber took artistic gymnastics more seriously than you or I ever will, she took it at face value, for the absurd and arbitrary and stupid and enchanting practice that very few will allow it. She exposed herself to it, in front of millions, billions maybe, and she came up short.
There is a war on sport and on competition, waged in the name of equity and openness and participation. Yet, ironically, those in favor of collaboration and openness also produce ferociously competitive and exclusionary positions in response. Wilson's physical party game JS Joust, for example, is like the playground game King of the Hill, in that one player remains standing, encouraged to do whatever it takes to win. And Kanaga's call for a "utopian state of play" embraces all possibilities for play save the one that takes a particular game at face value, that asks what it would be like to imagine that that game discovered a pure truth worthy of taking for what it is. And likewise, Bruckman's rejection of competition in favor of investment in collaboration absconds with the individual achievement that she and others would have to admit in order to allow an athlete like Wieber admission into the imagined community of accomplished Americans. That's hardly the more sophisticated, worldly response of "an educator" rather than "a little girl." Or if it is, woe to us educators, and woe to us adults.
Bruckman admits that even her own educational methods fashion winners and losers, even if, in her words, "We need lots of capable people—every one we can find." But what counts as capability? Which talents are worth celebrating and culturing, and which ones are to be cast aside, deemed secondary, distractions from what's really important? Amy seems pretty sure that Olympic aspiration is a big dream without much meaningful reality behind it—or in front of it, perhaps, since so many amateur and professional athletes don't know what to do with themselves when their competitive careers end.
The problem with having winners and losers isn't that there are winners and losers. It's that we fail to respect and acknowledge all the different ways that victory and failure can play out while still taking seriously the specific conditions of a particular individual or group in relation to a particular sport, game, practice, or circumstance that can be won or lost. To hate competition is selfish. It means caring only about what one can do or can imagine doing, and refusing to take a broader look at the massive variety of talent that coarses through the collective veins of humanity. It's the opposite of collaboration.
Instead, we ought to find and create paths that match our individual talents but that do not subsume them, that give them room to grow, and that let them develop into new forms still, not just sport or science, not just individual achievement or collaboration. As for sport, as for games, let us compete. Let us subject ourselves to the stupid caprice of structures and rules we didn't invent, for they are one of the best places to practice the contingency and folly of really real reality. Let us feel their weight as invitation rather than oppression. Those who do so in earnest are far more likely to have a perspective from which they can empathize with others, whose talents lie elsewhere.