Back when his book The Textual Life of Airports was published in December, Christopher Schaberg reported what most authors do: seeing his book for the first time. "What a weird feeling," Chris wrote. "It resembles an object from outer space. Vaguely recognizable, yet totally alien at the same time."
This is the experience of most authors. We say we "write books," but really we write words. Then we put them in a FedEx box and give them to a publisher, who performs a ritual upon them that eventually spits out a book. Most writers don't make books, they make words, and then they sign over rights to make books to book-makers.
It's not always a bad thing. As Chris notes, the book Continuum made for The Textual Life of Airports is well-designed and attractive, delightful to hold, a nice size, laid out well. It's also $100 in a hardback-only edition, which means that no normal human beings will buy it until Continuum gets around to publishing a paperback edition. All of which just underscores the point: authors rarely make books, where a book is an object with certain properties meant for the lives of readers.
And hold up before you say that the publishing industry is the problem. Sure, self-publishing puts more apparent control in the hands of an author, but the reality of print-on-demand (POD) printing and eBooks is one of far less design control than was ever possible in offset printing. Books can be designed. POD books just get uploaded and pressed out. They are the lunchmeats of publishing.
Shortly before The Textual Life of Airports dropped, Chris and his Loyola colleague Mark Yakich put together another book, Checking In / Checking Out. It's a two-sided book about airports and airplanes, one written by each author. The size and shape and feel of the book resembles a passport, and the effect just makes you want to carry the thing with you when you travel. Which, of course, is the perfect time to read it. As the LA Times put it, "About 5 by 6 inches, small enough to tuck into a jacket pocket or a purse, it's easy to carry, doesn't take too long to read, and is quite nice to look at. And if you carry it on a plane, you don't have to turn it off." To produce that effect, Schaberg and Yakich had to write, design, print, market, and distribute a book—a real object in the world. Not just a series of words on pages sent to a publisher.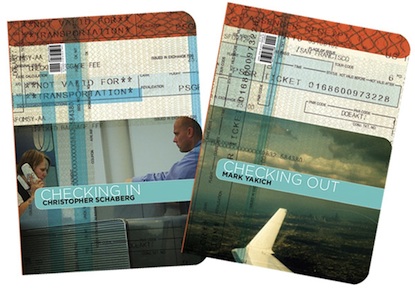 I've certainly found myself thinking more and more about this over the years (and asking more and more of my publishers). Both Racing the Beam and Newsgames are books whose physical size, heft, and feel very much please me. They are readable and attractive and desirable as objects. Likewise, How to Do Things with Videogames was made with readers in mind… short chapters, small form factor, inexpensive paperback edition from day one, and so forth. A book people read and finish. And hopefully enjoy having and experiencing as much as they enjoy reading it. And of course, I put laborious effort into the creation of A Slow Year, which is a book despite also being a videogame. Experiences like these have made me realize that books are not just boxes for ideas. They are also things in the world.
In my forthcoming book Alien Phenomenology, at the start of the chapter on Carpentry (my name for making things that do philosophy), I talk about the chasm between academic writing (writing to have written) and authorship (writing to have produced something worth reading). But there's another aspect to being an author, one that goes beyond writing at all: book-making. Creating the object that is a book, that will have a role in someone's life—in their hands or their purses, around their mail, in between their fingers. Now, in this age of lowest common denominator digital and POD editions, it's time to stop writing books and to start making them.
To that end, I've started working with Minnesota on an unusual and possibly unreasonable alternative way to experience Alien Phenomenology in print form, for the select few who might be interested in a physical incarnation of my object-oriented philosophy. More on that soon.