Do you read Strange Maps? You should, if you're at all a map geek. It's a blog about curious cartography. It's really exactly the kind of site blogs seem to promise, regular musings on a subject so specific or arcane that another medium couldn't support regular publication. Thanks largely to Boing Boing, there's been a running meme lately of subway map mashups, like this one of a hypothetical LA subway mapped to the London Tube or this anagram subway map of Toronto. They're cute and clever but more than a little gimmicky. Strange Maps covers real cartographic oddities, both old and new, and some of them are real gems of visual communication. On the topic of subways, here's a literal translation of the Stockholm subway map that's just as curious as the invented ones of greater web fame. And one of my favorites from the site is this diagram of the Eisenhower Interstate System.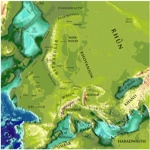 Anyhow, recently Strange Maps covered a UCLA geography professor's attempt to map the geographic location of Middle Earth. Taking his charge from Tolkien's suggestion that Middle Earth is a part of our own earth, but from a previous era, Prof. Peter Bird. In this map, The Shire is in southwest England, the Gray Havens in Ireland, Helm's Deep near Basel, Edoras in Bavaria, and Mordor is (perhaps appropriately) in Transylvania.
Visually, the interesting thing about the map is how Bird overlaid Middle Earth atop present-day Europe. Bird doesn't describe his method, which is too bad, but probably expected since this is a project borne of geekery more than scholarship. It does make me think of the one example of a certain formerly popular geography videogame that didn't get made: Where in Middle Earth is Carmen San Diego. Too bad they didn't get the license.