In 2010 I released a game called A Slow Year. It was a strange game on many levels: made for the Atari VCS, and dubbed "game poems," and composed as a kind of chapbook. The game was a finalist in the Nuovo category at the 2010 Independent Game Festival, and it won the Vanguard and Virtuoso awards at Indiecade 2010.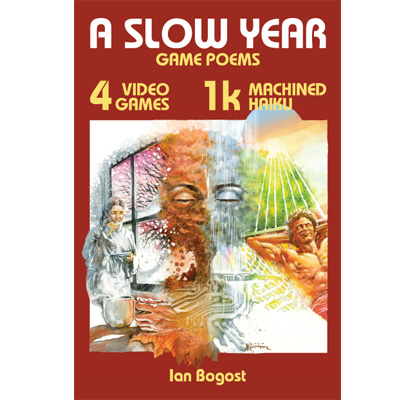 I released it in two forms, as a signed, numbered limited edition set of twenty-five in a hand-crafted leather box with Atari cartridge (now sold out), and as a paperback book with CD for Windows and Mac. That approach necessarily limited the audience for the game, but I stood by it because I wanted the work to be seen as a kind of merger of game and book, and in 2010 an all-digital edition seemed like a stretch.
Happily, that's no longer true, and I'm finally releasing a downloadable edition of the game, which includes the book in PDF, ePub, and Mobi formats. In addition to being super-convenient, the book is expanded, featuring a new preface and an interview.
You can buy it right now from the Humble Store using this widget that doesn't quite fit my current website layout properly!
But wait, there's more! For the next two weeks you can also get A Slow Year in the awesome new Video Games edition of StoryBundle!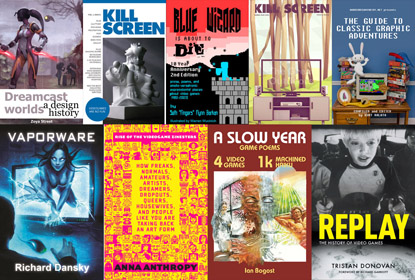 Name your price and get Zoya Street's awesome Dreamcast Worlds, two issues of Kill Screen, Seth Barkan's Blue Wizard Is About To Die, Kurt Kalata's The Guide to Classic Graphic Adventures, Richard Dansky's novel Vaporware, Anna Anthropy's Rise of the Videogame Zinesters, Tristan Donovan's Replay: The History of Video Games, and of course the A Slow Year book and game set. You can name your price, although you have to meet a minimum threshold to get the Anthropy, Donovan, and Bogost goods.
2010 year was also the year of Cow Clicker, and A Slow Year got a bit lost in the noise created by the former (read more on that topic in this piece by Leigh Alexander.) So I'm really glad to be able to re-release the game in this form now that the dust has settled.