Via Bryant, I just discovered the blog Struggles with Philosophy. I'm not sure who the author is, but as Levi points out, discussion there has recently taken up Object-Oriented Ontology. Here's an excerpt from the latest salvo.
At one level I want to differentiate between the theory (or philosophy) of OOP and the praxis of OOP, which will be designated as OOE. The former (OOP) will primarily be engaged in the philosophical discussion and theoretical debates of an object-orient approach, and the main role of OOP will be to produce Object-Oriented Ontologies. The latter (OOE) will primarily be concerned with illustrating the benefits (and limitations) of Object-Oriented Ontologies for the analysis of the experiences of the â??realâ?? world, aimming to research particular objects(or events) and how these objects act and relate to other objects. In other words, the Object-Oriented Empiricist will use (or steal) the ontologies produced in OOP and design their research projects in accordance with what object-oriented ontology they adopt.
There's nothing objectionable to me in the above. But I did feel a discrepant twinge when I read it. After reflecting on the sensation for a bit, I think I've put my finger on it:
In my view, object-oriented thinking cannot avoid practice.
It's true that many kinds of thought have latent, theoretical dimensions and active, practical ones. This is true in the sciences as much as (and probably more than) in the humanities…just ask XKCD.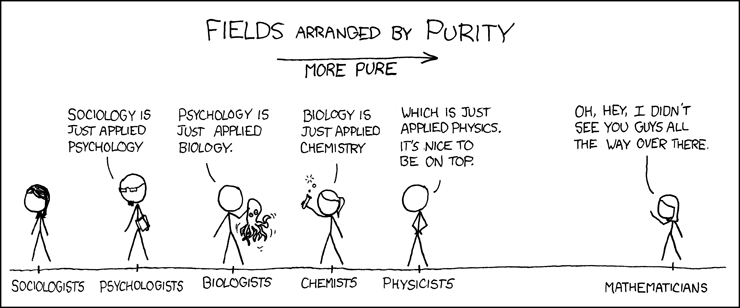 Bryant reaches a similar conclusion, I think, in his post on Struggles With Philosophy's post. Says Levi, "knowledge is a product of doing and is a discovery of doings." But the social sciences also discover doings, yet they do so only, for the most part, in order to record or otherwise document them.
By contrast, there is something in OOO that ought to do things in a more literal sense. When my colleague Hugh Crawford teaches Walden by having his students build Thoreau's cabin, something quite unlike traditional theory or practice is taking place.
As I've mentioned before (1, 2, 3), I've been using the name carpentry (pace Harman) to describe this intertwingled type of theory/practice. It's a special type, I think. One not reducible to either pure thought or pure action, but one that motivates its thinking by means of action, and vice versa.
"Object-Oriented Empiricist" isn't a bad name for that kind of practitioner, but seeing it written down makes me realize that one of the promises of OOO is that of Object Folk who ignore or destroy the theory/practice divide, rather than line up with the mathematicians or ontologists or physicists or literary critics.
The turn to objects is also a turn toward the real world (not the Real), a world full of wood and Pez dispensers and candlelight and itches. When we do so, we have an opportunity to get the "empiricism" for free, so to speak.